Financial Commission
President : Mrs Aouatef Elloumi El Ghoul
Role : In addition to its mandatory annual audit function under the supervision of the Treasurer, the Finance Committee is responsible for the preparation of the draft budget of the Chamber and the structures attached to it, as well as the monitoring of their modifications, The review of the additional appropriations that may be required to be opened during the fiscal year. Review of the financial impact of borrowing required to finance construction, development and equipment programs. And in general, consideration of all matters likely to have a financial impact on the budget of the chamber.
Economic Manifestations Commission

Market Commission

EXPORT AND INVESTMENT Commission

President : Mr. MOHAMED TAYSSIR BEN MLOUKA
Role : Establishment of the program of events of the CCIT Follow-up of the actions programmed within the framework of the events and within the framework of the commissions of the CCIT.

President : Mr. ABDELLATIF MOKHTAR
Rôle : manages the various acquisitions of the CCIT, through quotations, on the one hand and tenders submitted by the CCIT on the other.

President : Mr. GHASSEN ROUATBI
Role : Participates in the Promotion of Export
TRAINING AND EMPLOYMENT Commission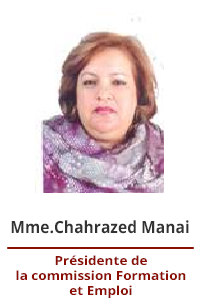 President : Mrs. CHAHRAZED MELLEF MANNAI
Role : Internally: Plan and organize training seminars for CCIT members, Participate in the initiatives of the various CCIT committees in the preparation and organization of awareness seminars. The follow-up of the training provided by the CCIT Practical School of Commerce.
National and international level: Participates in training committees, meetings and seminars
Internal Trading Commission

INDUSTRY AND ENVIRONMENTAL PROTECTION Commission

Services Commission

President : Mr. TAOUFIK CHAOUCH
Role : Establishment of actions to be carried out in the field of internal trade in Tunisia

President : Mr. NAJEH BEN ABDESSALEM
Role : The Commission for Industry and Protection of the Environment undertakes all actions to promote the sectors of Industry

President : Mrs. FATMA SEFI CHALGHAF
Role : The Service Commission undertakes all actions to promote the services sector.
CCOMMISSION FOR THE SUPPORT OF SME

CRAFTS COMMISSION

INTERNAL SERVICES COMMISSION

President : Mr. MOHAMED SAIDANE
Role : Participates in the activities of the institutions involved in the promotion of Small and Medium Enterprises. Organizes awareness-raising activities for the benefit of SMEs in the CCIT constituency to the advantages offered to them.

President : Mrs.Sihem Chemmam
Role : Discuss all aspects of Crafts (Craftsmen and Traders) while trying to solve the various problems that affect this sector.

President : Mr.Moncef Ben Jemaa
Role : To improve the services offered by the Chamber to its members, to modernize the internal working methods of the CCIT by setting up systems and applications in Informatics and to develop new perspectives.
| | | | | |
| --- | --- | --- | --- | --- |
| Toursim Commission | | Communication Commission | | Youth Commission |
| | | | | |
| President : Mr. Nacheet et AZZOUZ | | President : Mrs. Saida NEFFATI | | President : Mr.Abderrazek Sanheji |